About
The Blue Lotus Temple is constructed of many people all working together to make things work; however there has always been a key figure amongst all this. Bhante Sujatha is not only the creator of the Blue Lotus Temple, he is also the acting leader in both the operational and spiritual fields. At almost every event you will find Bhante Sujatha there with a smile on his face and an aura to sooth and uplift all.
Temple Hours
The Temple is open and attended:
Monday 8 am-8 pm
Tuesday 8 am-7 pm
Wednesday 8 am-8 pm
Thursday 8 am-7 pm
Friday 8 am-5 pm
Saturday 8 am–5 pm
Sunday Closed
Meditation Schedule
Monday 7-8 pm (30 minutes guided meditation and 30 minutes of dhamma talk)
Tuesday 10-11 am (30 minutes guided meditation and 30 minutes dhamma talk)
Tuesday 6-6:45 pm (30 minutes non-guided meditation and 15 minutes chanting)
Wednesday 7-8 pm (30 minutes guided meditation and 30 minutes of dhamma talk)
Thursday 6-6:45 pm (30 minutes non-guided meditation and 15 minutes chanting)
Saturday 10-11 am (30 minutes guided meditation and 30 minutes dhamma talk)
Have Questions?
Buddhism and Meditation Practice are relatively new to many people. We've done our best to answer some of the most common questions. Browse our Frequently Asked Questions Here…
People
The Blue Lotus Temple is constructed of many people all working together. Click the tabs below to learn more about Bhante Sujatha, other resident monks, a resident nun (Bhikkhuni), and find a list of some of the people that donate their personal time to keep the temple running.
Bhante Sujatha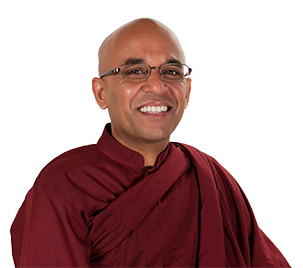 Born in 1967, in Kandy, Sri Lanka (the country's second largest city), Sujatha was the younger of two children. Even as a child, he knew he wanted to become a Buddhist. Initially, his parents (who were both Buddhists) were not entirely thrilled about the idea for their young son. However, Sujatha persevered and eventually persuaded them this was his true desire. When he turned 11, his parents finally granted him permission to enter the monastery.
Soon afterwards, Bhante Sujatha entered the Subodharama International Monk Training Center in Kandy. This temple is a part of the Theravada tradition of Buddhism. Theravada is regarded among its practitioners as the lineage closest to the original form of Buddhism. It was brought to Sri Lanka (formerly Ceylon) in 250 BCE, and is now widespread through many other Southeast Asian countries including India, Thailand, Burma, Laos, and Kampuchea (Cambodia). As a novice monk, Sujatha trained under the school's ordination teacher, the Venerable Dhammawasa Thero.
Compared to that of their American counterparts, the life of a young boy in a Buddhist monastery is quite rigidly structured. At Subodharama, young monks were expected to rise at 4 a.m. and make tea for all the other members of the temple before beginning their chanting and meditation practice at 5 a.m. Only two meals a day were served at the temple – breakfast and a large lunch. After breakfast, the boys studied the Buddhist scriptures, followed by more chanting and study time. At 11 a.m., they showered and laundered their robes. Lunch was followed by five hours of study in the classroom, and at 5 p.m. it was time for a second round of temple cleaning. This was followed by more meditation and chanting, and then another round of study time. Bed-time for the young monks came at 9:30 or 10 p.m.
In addition to their study and meditation, the young monks were also expected to go into town and do alms collections. They would carry bowls into which the townspeople donated food for the temple.
Bhante Sujatha says the most important thing he learned at the monastery was "how to get along successfully with other people anywhere in the world." As a result of the rigorous training he completed in the monastery, he believes it is "much easier to handle other people (and their various issues and personalities) when you've learned how to handle your own."
Following graduation, Bhante Sujatha served as a teacher at Subodharama for 2 years. In 1993, he left Sri Lanka for Brisbane, Australia, where he taught meditation and Buddhism at the Sri Lankarama Buddhist Monastery. Four years later, he was asked by one of his former teachers, the Venerable Mudtha Thero, to join him in the United States. Bhante Sujatha accepted the invitation and soon relocated to the Midwest, where he helped establish the Great Lakes Buddhist Vihara in Southfield, Michigan.
Five years later, after obtaining his permanent residency in the US, Bhante Sujatha decided it was time to do something different. Although he enjoyed spending time with the Sri Lankan community in the US, he wanted to do something to help his fellow Americans, who always seemed "vaguely dissatisfied despite their many possessions and high standard of living" and seemed to be "constantly striving after the next best thing."
At this point, Bhante Sujatha began sending out exploratory emails and got in touch with several of the Unitarian Churches in the US. In particular, he began communicating with the Congregational Unitarian Church of Woodstock, who invited him to visit McHenry County. When he came to visit Illinois, Sujatha also toured McHenry County College and said he felt "really good and happy" there. He decided McHenry County was a good place for him to be, and moved there not long afterwards.
After enrolling as a student at McHenry County College (MCC), where he pursued a degree in psychology, he was approached by Rev. Dan Larsen of the Unitarian Church in Woodstock to start a meditation class. Sujatha agreed, and in January of 2003 he began teaching meditation classes both at MCC and at the church in Woodstock. Thus, the Blue Lotus Temple was born.
Bhante Sujatha believes his job here in McHenry County is not only teaching meditation, but also "teaching people how to be happy." HIs primary goal is to help people apply the teachings of Buddhism to their everyday lives. According to Bhante, "the core essence of all the Buddhist teachings is the same; but how things are done, and the ways people are guided, is different." To illustrate this with an analogy, he explains, "We can get into the ocean in different ways, or from different places, but it's still the same ocean."
Bhante Sujatha says that he "believes in change, rather than tradition," particularly when dealing with life in our fast-paced Western society. His approach to teaching is easy-going rather than dogmatic, and he makes every attempt to explain things to his American audience so that even absolute beginners can understand how to practice meditation, and how to apply the spiritual teachings to their own daily lives.
"I hope to help people here by teaching them to see their jobs and work as a form of spiritual practice," he says. "Then they can learn to enjoy whatever they are doing in the moment, instead of always worrying about the future or the past. That's the most important thing."
Bhante further explains "for monks, meditation is a very different practice than for regular people living in a community". Since monks spend most of their time in a cloistered environment away from the rest of society, they do not face many of the same challenges as other people who must contend with family and relationship stresses, along with the intense pressures that career and daily life often entail.
Fortunately for Westerners, Bhante Sujatha maintains that daily life can become an excellent form of meditation, if you can learn to view your whole life as a form of spiritual practice. In this way, whenever we are faced with difficult situations in our daily lives, we learn to retrain our minds and become "mindful" of our feelings and emotions, and learn to practice kindness, compassion, and patience instead of anger, vengefulness, and intolerance. In this way, not only do we become more peaceful ourselves, but we also become more positive influences on the world around us.
As the spiritual leader of the Blue Lotus Temple, Bhante believes he is here to "prepare the field for other people, who — when they achieve happiness — will hopefully plant the seeds and do the rest." He is also hopeful that members of the group will be able to make it possible to establish a permanent home for the Blue Lotus Temple in McHenry County. In the meantime, the Congregational Unitarian Church of Woodstock has been extremely kind in sharing their space for the Temple's practice.
Bhante Sujatha says the biggest challenge he faces here in the US is in learning to communicate clearly in such a different culture. "I can use a word that means one thing in my culture, and it might mean something completely different here in the US. So communication can be tough at times," he admits. "But at this point, I feel like I now understand about 80% of US culture, so things are getting much better!"
There is still the occasional culture clash. For example, at a meditation retreat he hosted in Harvard, IL, Bhante Sujatha was approached by two college students during a break. The young women expressed their surprise at seeing Bhante wearing a modern watch, along with the traditional saffron robe. Quite surprised by their questions, Bhante chuckled and gently explained that the watch was a gift from his mother back in Sri Lanka, and that he likes to wear it to remind him of her. It was fine for him to wear a watch. The students then explained that their confusion was most likely based on erroneous impressions of how a Catholic monk (or nun) is expected to behave, and that these ideas may have biased their view of Bhante Sujatha as a Buddhist monk. Since there aren't many Buddhist monks currently residing in the US, the students realized they didn't have any frame of reference for dealing with one. This encounter caused Sujatha to consider some further cross-cultural issues. "I have a sense that some [American] people might worry that it would be difficult to interact with a Buddhist monk," he admits. So to help overcome that issue, Bhante Sujatha tries to keep his teaching style very "informal and easy going." Furthermore, he says he also always tries to "respect the US's own culture first and foremost, and then teach meditation in a way that people here can better understand."
Bhante Sumana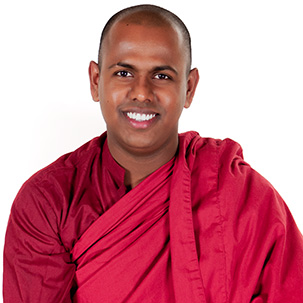 Bhante Sumana began his training as a Buddhist Monk when he was allowed to enter the monastery at the tender age of eleven years old. This was in the year 1995. He received his higher ordination in 2003 in Kandy, Sri Lanka. Continuing his education and practice in the dhamma, he finally became the Abbot of a Temple in another village. For the next several years following, Bhante Sumana was also afforded the opportunity to be a teacher for a monastic school at a different location.
In 2009 he left Sri Lanka and headed for the United States to join the Buddhist Temple in Michigan, sponsored by Venerable Bhante Sujatha. His training in the dhamma, as well as initiation into the American culture and language, developed greatly at the Michigan Temple over the proceeding two years.
At that time, he was called for by Bhante Sujatha to come to Illinois and assist him during a time of great illness. It was during this stay that Bhante Sujatha invited him to remain here, and take up residence with the Blue Lotus Sangha.
With the permission and blessings of Venerable Bhante Muditha, Bhante Sumana made the move to Illinois shortly thereafter.
He is currently continuing his education in English, teaching chanting classes with Vimala Bhikkhuni, as well as assisting in several other Blue Lotus workshops, groups and events. He continues to work diligently on his English, with a strong determination to offer even more help and assistance to the entire community, and be of benefit to the Blue Lotus Temple sangha.
Bhante Sumana has a compassionate nature that breaks all language barriers. His warm smile and gentle demeanor communicate loving kindness and compassion in a way that far exceeds mere words.
While very well studied and wise in the teachings of the Buddha, Bhante Sumana applies this always in an easily understandable way. He exemplifies, to me, what it truly means to live a life that is for the benefit of all other beings. Always accepting of everyone, sensitive to each individuals nature, and encouraging in his words and actions. Bhante Sumana simply inspires the best in others.
Bhante Dhammadassi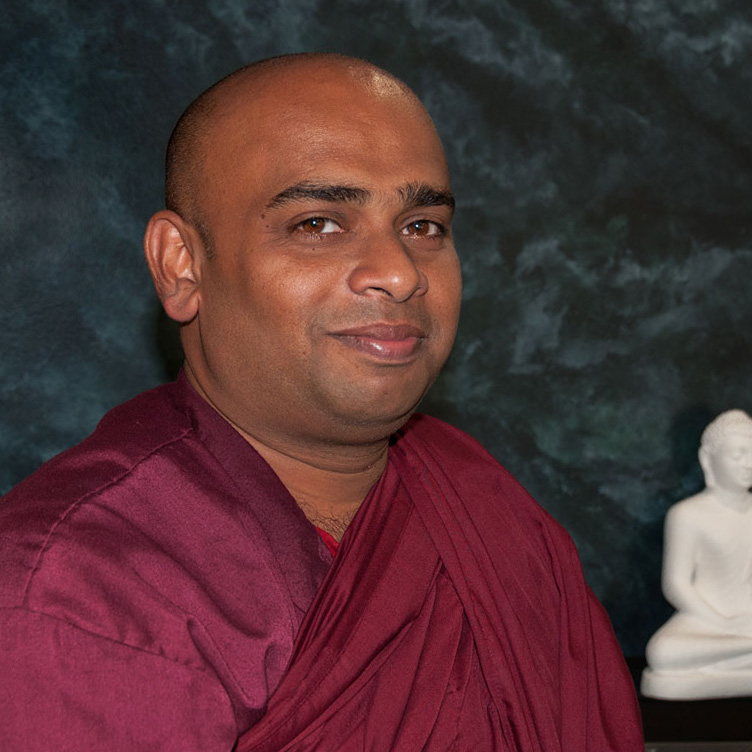 Bhante Dhammadassi was born in Sri Lanka and became a monk at the age of 13. He has been a practicing monk for 24 years. He studied at the University of Ruhuna and graduated in Buddhist Studies. He taught at Tilakaratnaramaya Buddhist Collage in Colombo, Sri Lanka. He also taught Sunday school at Nagarukkarama Buddhist temple in Aheliyagoda, Sri Lanka.
He is now a resident monk at the Blue Lotus Temple in Woodstock, IL. He assists Bhante Sujatha, the abbot, and teaches chanting classes. He also assists with other activities at the Temple as needed.
Bhante Dhammadassi has very kind and loving personality and cares about the people he meets. His mission is to serve humanity by helping others find happiness and contentment.
Bhante Amitha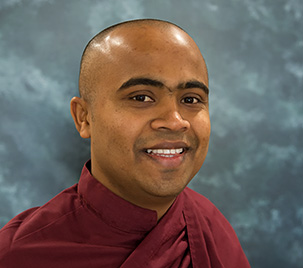 Bhante Amitha is a Buddhist monk from Sri Lanka who became a monk 2001. He is one of Bhante Sujatha's brother monks. He also became a monk under the same teacher as Bhante Sujatha. He is scholar monk who graduated with a Bachelors of Art and also completed his master's degree at the University of Kelaniya in Sri Lanka. His major was in Buddhist studies and canonical languages.
Before he came to the United States he was teaching and lecturing at the Monk's Training College in Sri Lanka for approximately 4 years. In addition, he was also the Principal of one of the largest the Sunday schools in the country with approximately 3000 students.
Bhante Amitha is great addition to Blue Lotus Temple. Soon he will be sharing the teachings of the Buddha and will also assist Bhante Sujatha in his other work.
Bhante Amitha is an extremely kind and compassionate monk who is very good with children and will be contributing to the Blue Lotus Temple Buddha Kids program.
Bhante Somananda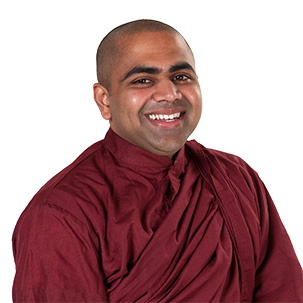 When I lived in Sri Lanka, every year we would have a week of chanting at my temple. It is a beautiful annual event with several thousand people chanting for twenty four hours a day. Around the temple Bodhi tree they build a colorful gazebo and monks chant continually. Many people support this event with devotion. Among them I saw a young Buddhist monk who was always smiling. He walked around the Bodhi tree doing all the cleaning and taking care of the offerings to the Buddha. He would smile at the people who brought offerings and flowers to the Buddha. He would help them in ordering the colors and shape of flowers. It was a beautiful deed and interesting to observe. I saw this young monk always find focus and devotion in the moment. I loved to watch him . When I would go to watch him, he would always ask "Bhante, do you want to help me make these flowers beautiful?" He would put some jasmine flowers my hands and tell me that this would be a good blessing for me. This how I saw this faithful and devout young monk named Somananda. He was truly attending to the Buddha with simple smile on his face . I have seen that sometimes temple devotees bring him gifts of candy and chocolates. The people love him.
Bhante Somananda was born in Sri Lanka on February 19,1986 in the small village of Lagamuwa, Kandy . He has six brothers and sisters and he is the fifth child in his family. When he was ten years old, he entered the monastery for his monk training at Subodharama International Bhikkhu Training College in Sri Lanka.
I always tell him that he is a good nurse. Once, I was hospitalized for a few weeks in Sri Lanka. Somanada was my caregiver. When I was in pain he always gave me a foot massage . He has so much kindness and gratefulness. I am always telling him that he has healing hands. Truly, he does.
Anther interesting thing I saw in his character is how well organized he is. He loves to clean because he can not handle messes. His room is always clean and neat .
In 2012, I sponsored him to Blue Lotus Temple. I think he is a good addition to our center. He was at our home temple Great Lake Buddhist Vihara under Bhante Sankichcha's tutorial. Now he is back at Blue Lotus. I know he still has a long way to go in this country as a young monk. We must support and encourage him as he becomes more dedicated to his journey.
~ Bhante Sujatha

Bhikkhuni Vimala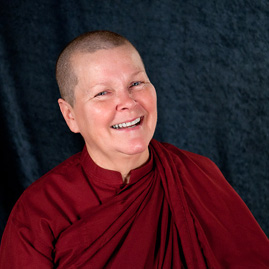 In the summer of 2010, Vimala had the opportunity to travel to Sri Lanka for higher ordination as a bhikkhuni (female monk) at the Dekanduwala Buddhist Training Centre outside of Columbo, with Venerable Bhante Sujatha on her ordination panel. This extraordinary experience came three years after her novice (samaneri) ordination at Blue Lotus Temple in Woodstock. Today, Bhikkhuni Vimala is leading meditation groups in Wisconsin and also involved with Blue Lotus Temple activities in Illinois.
Bhante Sujatha has been her teacher and mentor since 2005 when he began leading a newly formed meditation group in Williams Bay, Wisconsin. He had been leading his Woodstock group for a few years when Sangha member Mike Goodman invited him to teach a new group in Wisconsin. Bhikkhuni Vimala joined that group the second week it met, and has been Bhante's student ever since.
Vimala first took refuge in the Buddha, Dhamma, and Sangha in 1995 with a Tibetan monk, Ato Rinpoche, who was a visiting teacher at the Shambhala Center in Milwaukee. All of her training there and the fine teachers of Shambhala gave Vimala a solid base in Buddhist practice and thought, but soon after she met Bhante Sujatha, Bhikkhuni Vimala realized he was the teacher she had been searching for.
Bhikkhuni's other teachers are her adult son and daughter, Kate and Stephen. Her professional background has included working as a teacher, journalist, and book editor. She has a Master's degree in public administration from the University of Southern California and a Bachelor of Science degree in education from the University of Texas in Austin. Bhikkhuni Vimala was raised in Texas, spent many years in California, taught English in Japan for three years, and then moved to Wisconsin where she had her family, found her teacher and the Blue Lotus Sangha.
Her spiritual past has been eclectic, but each experience on her path has been integral to who she is today and how she relates to the Dhamma. She was raised in a fundamentalist Christian church, but left her faith when she went away to college. For several years, she explored different spiritual teachings and also lived the 12-Step Program. Christianity re-entered her life when the openness of liberal Christian theology was introduced to her through a small Congregational church in Williams Bay. When her children were little, Bhikkhuni taught Sunday school, sang in the choir, and served on church committees. Of this experience, she says, "Being in the church again and seeing it from such a different perspective brought the healing my heart needed." After several years in the church, however, her personal studies led her to different teachings, and this is when she encountered her first Buddhist teacher.
Bhante Suyama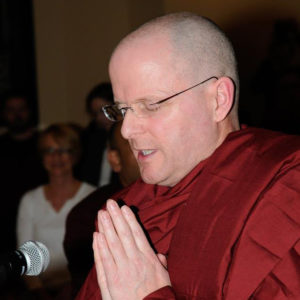 Bhante Suyama, an ordained Buddhist monk of the Therevada tradition. "Suyama" translates to "Good Time". It was a good time (auspicious time) in his life to become a monk! The venerable Bhante Sujatha (the Abbot at the temple), named him "Suyama" and Bhante Sujatha is also his preceptor and teacher. He was able to find his way onto this spiritual path towards self-liberation. Like many others, he was always in search of his own happiness and meaning in life. Ultimately, Bhante Suyama discovered that in order for him to be happy in this life would only come from helping others find out for themselves how to become free from their own suffering. He considers the greatest gift of fulfillment in his life as a Buddhist monk would be to help others find relief from their own sufferings.
Bhante Suyama's previous working life included occupations mostly in transportation but also in information technologies; specifically, He was an independent semi truck owner-operator, a certified commercial aircraft pilot and even sailed commercial excursion boats. he'd lived in Northern Illinois most of his life but traveled globally and enjoyed studying other parts of this world, especially cultures in mountainous regions including the Alps, Andes and the Himalayas.
For the future, he plans to return to Sri Lanka for further training – but more importantly to help others in any way he can including preserving the teachings of the Buddha. Thereafter, we'll return from Sri Lanka and assist in the mission of the Blue Lotus Temple under the stewardship of Bhante Sujatha; thereby helping to spread more love in this world.
Bhante Bhaddiya
Bhante Bhaddiya was born in Kandy, Sri Lanka in 1989. When he as 12 years old, he entered the monastery where he met Bhante Sujatha as one of his teachers.
After his higher ordination in 2009, Bhante Bhaddiya became a teacher at the Subodharama Temple where he taught Pali and the Dhamma to the young monks in training. At the same time, he was the abbot at one of Subodharama's branch temples where he assumed the major responsibilities there for several years. He earned his MA in Buddhist Studies and Pali at the University of Kelaniya in 2012.
Bhante arrived in the U.S. in 2015, and immediately joined his brother monks at the Blue Lotus Temple in Woodstock. He is currently enrolled at MCC in the ESL program, and is the Temple's instructor of Pali Chanting and for classes that study the teachings of the Buddha.
Besides being well versed in these teachings, Bhante Baddiya brings kindness, compassion and lots of smiles to the Blue Lotus community with his cheerful personality.
Board of Directors
Sangha Patron & Executive Director : Venerable Bhante Sujatha
Tyler Lewke- President
Martie Gorman- Vice -President
Rebecca Jessoe- Secretary
Kellie Wilson– Director
Laksiri Tissera- Director
Nancy May- Director
Ryan Green- Director
Downloads
Three Jewels: the newsletter of the Blue Lotus Buddhist Temple
2012: Winter | Spring | Summer
2011: Winter | Spring | Summer | Fall
2010: Fall
2009: Winter
2008: Fall | Winter
2007: Winter | Spring | Summer | Fall
Chanting book
Spiritual chanting is an important part of Buddhist practice. Chanting is a form of study and a contemplation of truth in which the whole person is engaged. Both the musical quality of chanting and the meaning of the words aim to bring peace and stillness to the mind.
Download
Precepts Manual
This is the manual for those planning to take precepts during our annual ceremony.
Download